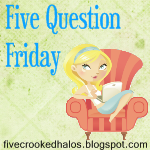 1. Is there something you've always wanted to try but just can't muster up the courage to actually do yet?
There's things I
used
to do but would like to do again, like mountain biking. I have this great mountain bike but still haven't hit any trails for fear of crashing and breaking body parts. When I was a kid, you could push me down a hill and I'd love it! Now... not so much...
2. If you had $100 handed to you in cash without your significant other knowing about it, what would you spend it on?
Can I tell him? Haha. I'd probably spend it on clothes, or maybe food... I love food.
3. What was your favorite piece of playground equipment as a child?
The swings, hands down. I still looooveee the swings! I loved going real high and coming back down. The momentum is great. Yep, swings are the best.
4. Do you prefer a sweet or hearty breakfast?
Sweet. My ideal, perfect breakfast includes lots of fruit and croissants. Maybe some bacon... is bacon sweet?
5. Are you a Neat Freak or a Messy Bessy?
Neat Freak. I get into a panic when the house gets messy (as it is now with our guests) and when it's clean, I feel at peace. I like having a clean, tidy house.